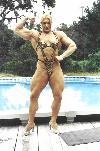 Video-406 Better then Ever
Click the picture to get a big one
---

295 NW Commons Loop Suite 115-377
Lake City, FL 32055
Phone: (239) 498-3684 Fax: 386 963-2808
edwardwinik@yahoo.com
---
Video 406 Maria Calo
BETTER THEN EVER
This posing, flexing video shows off Maria's muscles the best that ever has been seen. And I mean BIG muscles!!!! She has gotten BIGGER, better, and more astounding then ever before in her bodybuilding career. Her massive 18+ biceps are full, high peaked and HARD!! Her amazing 29+" quads and her 19" calves will have you not believing they are for real. Many outfits worn here and they show off her muscles very elegantly. I am always amazed, impressed, and just mystified of just how massive and incredibly muscular maria is. Get this video today and watch it over and over again, you will be impressed each time.This video is 31 minutes of heart pumping muscle flexing action and cost $50.00 and as always buy this video and choose one free from videos 101-380 On Line Catalog.
Photos from Video 406

Ordering instructions:

Visa or MasterCard:
Order line (239) 498-3684               Make check or money order payable to:
Fax        (386) 935-4283               MM-Videos
                                      295 NW Commons Loop Suite 115-377
                                      Lake City, FL 32055    

---
To send order please click here.