Top two photos not part of this video
---

295 NW Commons Loop Suite 115-377
Lake City, FL 32055
Phone: (239) 498-3684 Fax: 386 963-2808
edwardwinik@yahoo.com
---
Video 408 Wrestling Video of the MASSIVE Heather Policky
Home Care
Heather's MASSIVE legs are second to none in size and development.The outer sweep to her upper quad is amazing! It explodes with striated muscle when she flex's those incredible monsters, actually when she just walks down the street her leg muscles expand and flex with incredible size, cuts, and striations. They stretch the tape at 27" of BIG thick muscles, her calves are 17" diamonds that look like HUGE softballs. Her upper body is thick and rock hard and her lats and traps are truly astounding! This video shows how strong and powerful heather is . Where she lacks technique in wrestling ability she makes up in shear strength and power. Her scissors holds are explosive and she has immense power in her legs. She could kill a man with them. She has a powerful knockout scissors hold! This video clearly displays this and also shows some great headlocks, grapevines, smother holds, school boy pins, combination submission holds and just some of the most incredible muscle flexing you will ever witness. Her muscles in her legs are truly remarkable and unreal. To top it off heather has a very beautiful face with a sexy muscular physique! Also she is a Chyna sound alike, not so much a look alike but she sounds just like chyna, you have to watch this video and listen to her speak to see what I mean. This is a great wrestling video showing off heather's enormous leg muscles and incredible size and physique. 180lbs of solid muscle!!This video is 50 minutes long and cost $50.00 and as always buy this video and choose one free from videos 101-380 On Line Catalog.
Photos from Video 408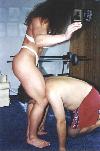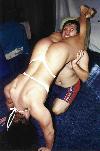 More NEW, UNREAL, photos of Heather Policky


Ordering instructions:

Visa or MasterCard:
Order line (239) 498-3684               Make check or money order payable to:
Fax        (386) 935-4283               MM-Videos
                                      295 NW Commons Loop Suite 115-377
                                      Lake City, FL 32055    

---
To send order please click here.