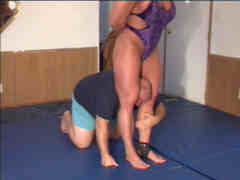 Nicole Bass Undisputed Champion
Click the picture to get a big one
---

295 NW Commons Loop Suite 115-377
Lake City, FL 32055
Phone: (239) 498-3684 Fax: 386 963-2808
edwardwinik@yahoo.com
---
6'2",250lbs of HUGE muscle!!
6'2"", 250lbs off season, 238lbs contest, 18" biceps and 19" calves, 30" quads.
Nicole Bass the largest women bodybuilder and wrestler in the world is back to show her size and strength. This is a two part video, first Nicole taking on vlad with one arm only. That's right one arm!!, Vlad knew from the video before this one that he was no match for this giant of a lady, so he challenged her to a full out fight with Nicole only being able to use one arm. This didn't bother Nicole one bit, and even with one arm, vlad 210 lbs was still no match for the muscular HUGE 250 lb Nicole. She use's lots of different combo-holds, scissors of all kinds, grapevines covering all of vlads body, and some dynamite smothering holds that has to be seen! Nicole is a full, hard, muscular, strong dynamo and even with all of that size and weight she is fast as lighting. She just has to be seen, she is Bigger and better then ever before.
The second part of this video show Nicole proving to any doubters out there that she is without a doubt the undisputed queen of squeeze!! She applies without mercy, various head scissors, body scissors, that has to be seen. Nicole's 30" rock hard quads and hamstrings are to much for any man to withstand. she without a doubt shows she is the queen of squeeze and this mans screams and getting knocked out proves it..This video is 42 minutes long and cost $50.00 and as always buy this video and choose one free from videos 101-380.On Line Catalog

Nicole picture gallery (more to come)

Ordering instructions:

Visa or MasterCard:
Order line (239) 498-3684               Make check or money order payable to:
Fax        (386) 935-4283               Mass Muscle
                                      295 NW Commons Loop Suite 115-377
                                      Lake City, FL 32055    

---
To send order please click here.