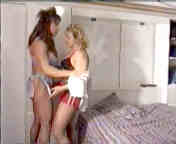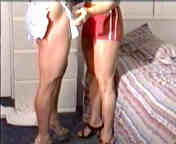 Christine Marshall and Debra D'andrea
"SESSION JEALOUSY"
---

295 NW Commons Loop Suite 115-377
Lake City, FL 32055
Phone: (239) 498-3684 Fax: 386 963-2808
edwardwinik@yahoo.com
---
Christine Marshall 5'3",150lbs of sexy seductive muscle!!
Debra D'andrea 5'7" 160lbs powerful, and seductive!!
Christine Marshall and Debra D'andrea go at it in some wrestling which surpasses the debra vs monica video!!

Debra found out from the grapevine that Christine was having sessions with mass muscle Ed . Debra wanted Ed only for herself and was going around beating on anyone who had any kind of session with him, Debra invited Christine over to her house for some dinner and wine one evening, or at least that is what Christine thought it was for. Debra had other plans however, and once Christine was in her house she confronted her about her sessions with Mass Muscle Ed. After some heated arguing over the matter Debra breaks out fighting. Both of these muscular ladies can put each other out with their scissors hold and give the other girl trouble. Debra decides to teach Christine what a session is all about and begins an onslaught of wrestling which is even more overwhelming then the Debra VS Monica video. I mean this video is intense!! Unreal positions and intense, aggressive, pounding, wrestling is shown through out this video, along with some submission head scissoring. Debra pounds away at Christine real hard in a grapevine smother hold, believe me, you will not believe your eyes. As always order this 50 minute video for $50 and choose one video free from 101-430. On Line Catalog

video 433 picture gallery

Ordering instructions:

Visa or MasterCard:
Order line 239 498-3684               Make check or money order payable to:
Fax        (386) 935-4283               Mass Muscle
                                      295 NW Commons Loop Suite 115-377
                                      Lake City, FL 32055    

---
To send order please click here.