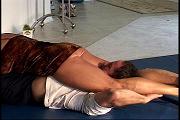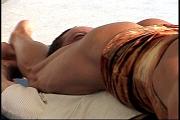 Lynn Sauve
"PERFUME 2" Click the picture to get a big one



---

295 NW Commons Loop Suite 115-377
Lake City, FL 32055
Phone: (239) 498-3684 Fax: 386 963-2808
edwardwinik@yahoo.com
---
Lynn Sauve 5'7", 153lbs, 15" calves, 15 1/2" biceps, 25 +" rock hard striated quads!!
Lynn is a rock hard striated in between a body builder and fitness gal. She is a great pleasant lady with a MEAN squeeze!!

I had the pleasant opportunity to meet Lynn a rock hard striated muscular bodybuilding and fitness trainer from Canada now living in ft. Lauderdale. Lynn has a great French accent and has quite an impressive sinewy muscular body. No fat on this gal, she is LEAN and MEAN!! This is the continuation of "perfume" she is Charlie's girlfriend who comes home to greet her boyfriend only to smell perfume all over him. She accuses him of fooling around with another girl and gets very angry with him. This is lynns first video and I have to say I was quite impressed on how much she picked up on the holds etc. She is also verbally impressive as well. Outstanding head scissors shows lynns legs and how rock hard and sinewy they really are. She can squeeze and she can hold the squeeze for sometime. Her grapevines are a thing of beauty, her gluts are beyond excellent, they are rock hard and ready to punish anyone who challenges her. She toss's, punches, kicks, and try's everything to hurt her unfaithful boyfriend. At the end of the video the phone rings and Lynn answers. On the other end is the perfume sales woman calling to say she is coming for her money. Lynn encourages Colette to come over and get the money because she is going to kick her ass. Perfume part 3 will soon come to the mass muscle videos in the future. Lynn is available for sessions in ft Lauderdale Florida and will be traveling in the future. So she will be wanting to meet all of you session guys.. As always order this 45 minute video for $50 and choose one video free from 101-430. On Line Catalog


video 440 picture gallery

Click the picture to get a big one


Ordering instructions:

Visa or MasterCard:
Order line 239 498-3684               Make check or money order payable to:
Fax        (386) 935-4283               Mass Muscle
                                      295 NW Commons Loop Suite 115-377
                                      Lake City, FL 32055    

---
To send order please click here.